This book and an additional accompanying workbook are free with your registration to my Teleclass Workshop!
Book: Redirecting Children's Behavior
178 pages
Useful for all ages
$16.95 paperback plus $3.50 S&H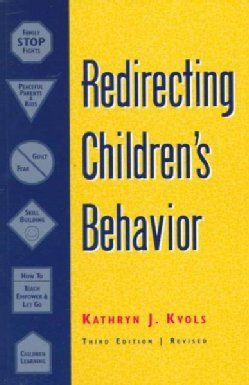 My favorite parenting book - I've read it 14 times and every time I learn something new!
Debbie
An inspiring and motivating book that challenges parents, teachers, grandparents, coaches, and others to create cooperative relationships with children. Redirecting Children's Behavior helps promote peace in families by offering skills to—
Improve communication
Help kids get along
Turn conflict into cooperation
Use natural consequences
Increase parent understanding of children's perspectives
Kvols shows parents how to encourage responsibility in children and build self-confident, cooperative individuals. This book is drawn from Kvols' work counseling families and children, directing camps for children, and teaching personal and professional growth courses which are based on the pioneering work of Rudolph Dreikurs, M.D.